Westbound Real Estate Marketing Strategy
We've been successfully selling homes and properties for thousands of clients over the past 32 years. Our marketing strategy consists of a wide variety of advertising venues in both print and online resources to offer our clients full-service marketing for each listing. Take a look below at some of our marketing strategies.
The Multiple Listing System
All property listings are added to the MLS System, which allows hundreds of local Real Estate Agents access to your property details so they may bring potential buyers as well. Also, all MLS listings are available to the general public online through Realtor.com, allowing your property listings to be seen by anyone with access to the Internet.

Our Company Website ~ www.WestboundRealEstate.com
Our website allows access to your property details, 24 hours a day, 7 days a week. Potential buyers can download surveys, aerial maps, property restrictions, and a property brochure with driving directions. Everything they need is at their fingertips so clients may view the property anytime, or if they would like to meet an agent, a direct link allows the client to schedule an appointment to view.
Newspaper Advertising
We contribute a weekly ad to the Warren County Record, which is the local newspaper reaching thousands throughout Warren County. Our ads are also featured on their website, WarrenCountyRecord.com, circulating in the Featured Ad section on a regular basis.
Printed Marketing Materials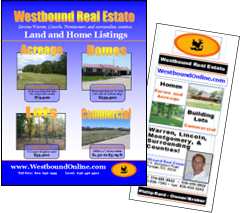 A property brochure is created for each new listing and uploaded to our website so prospective buyers can print them with driving directions to each property. In addition, the property is added to our tri-fold brochure, which is mailed to customers or distributed at various networking events and local chamber meetings. A property catalog is sometimes also used for bigger marketing events and distribution.
Email Mailing List
We have set up an email distribution list in order to immediately inform customers of new listings or price reductions on current listings. Each new listing gets distributed right away to our mailing list, consisting of over hundreds of past clients and potential buyers.
Online Advertising Sources
Our main online advertising source is LandsofAmerica.com, which is linked to over 250 partner websites, such as LandsofMissouri.com, Google Base, and the St. Louis Post Dispatch online site, allowing for much additional exposure for your listing. We also advertise in online classified sites such as Craigslist.com for the term of the listing. We have an active Facebook page where we post new listings as they come available as well.
Signs and Billboards
Each listing will have a sign posted on the property for sale, unless otherwise requested. Various signs or billboards can be found posted on broker owned properties throughout Warren and Montgomery Counties, driving traffic to our company website that includes all property listings.
Direct Mail
We will contact potential buyers through direct mail sending them a letter and property brochure with your listing details. For land listings, we get the names and addresses of the neighboring lots to your property and contact them to see if they are interested in expanding their current property. For home listings, if in a subdivision, we will mail a Just Listed postcard to inform people of the happenings in their neighborhood and encourage additional exposure of your listing through word-of-mouth from neighbors.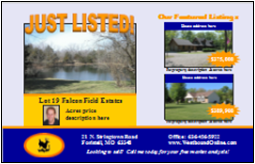 Office Showroom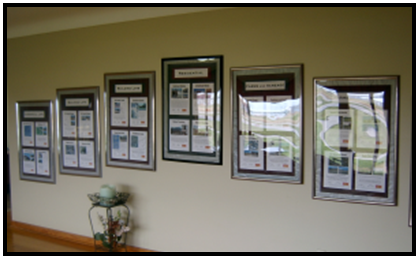 Our office location gets great exposure since we are right along Highway 70 between the Foristell and Wright City exits. We have current properties on display in our office showroom so customers are able to browse listings as they wait for an agent.